What is our Blog?
We are going to be using this blog to ask and answer questions, share our thoughts, and help each other learn. There will be regular blog posts from me that students will need to respond to, using blogging etiquette, which will be discussed below. Eventually, you may become a Guest Blogger by showing strong blogging etiquette and skills. By blogging, you are able to think about your answers before responding, which can be an advantage over classroom discussions.
Blog Guidelines
1. Think about your digital footprint
A digital footprint is a snapshot of everything you post online. Consider how you look to others viewing your post. Be sure what you're putting out into the world is the snapshot of yourself you want to put out there. Spelling, grammar, and academic vocabulary help you create a credible footprint. Proofread and double check your work before you publish.
Be sure to THINK before you post.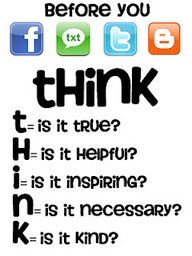 2. Keep your personal information private
Keep your posts free from last names, phone numbers, screen names, and personal email addresses. Although many people will want to read your blog for positive reasons, there are some people in the world who won't. Stick to your first name and last initial. Remember, this blog is PUBLIC.
3. Be kind and constructive
Anytime you post about your opinion, you are taking a risk in sharing your thoughts and feelings. You will not always agree with what your peers post. Be sure you are being kind and compassionate in your posts. When commenting on the work of classmates, be positive and constructive. Focus on the good things in their post and help them be the best they can be.
4. Write about peers only with their permission
Ask for permission to talk about a peer or classmate. If you do not have their permission, do not share their name! If the story will make the subject uncomfortable to know it has been shared publicly, do not share it.
5. Check, double check, and then check again
Your blog posts are public once you click publish. Check your spelling and grammar before posting. It is helpful to copy and paste your post into a Google Doc to check for spelling mistakes before posting. You will establish credibility with your audience if your posts are well written and free from mistakes.
6. Cite your sources
You should always give credit where credit is due. If you obtained any facts or even just ideas from another post or article, you MUST cite the source. If you do not give credit to the original author, you are plagiarizing. Plagiarizing will always result in failing the assignment. You can use the following link to help you format it correctly:
7. Make sure you're only reporting facts
Now that you know how to cite your sources, please make sure you're using them! Be careful to not report any misconceptions. Make sure you totally understand the topics you're talking about. Be sure to use reliable sources which are free from bias.
About Me
My name is Jennifer Aakre, and I teach science at TrekNorth Jr. and Sr. High School in Bemidji, MN. I like to run, especially on trails, eat chocolate, drink tea and pet my cats. (The picture is of me and my daughter Kaija after doing a Warrior Dash run.)